Thank you for these moments of discovery, sharing and happiness.
Mathilde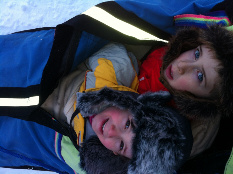 "Last night I dreamed that I was going back to the dogs in the night and the mountain. It was great, the dogs were going fast."
Paul 5 years old and Agnès 3 years old.
Maria A big thank you for this beautiful moment !!!! Nice ride !!!! My husband and daughters are thrilled with their Christmas gift !!!! Your dogs are wonderful and so nice and adorable! But they say like dogs like masters and I confirm !!!! Thank you for your quizzes with the girls and for all your explanations!!! You are passionate and exciting!
Claudine Great discovery of sled dogs. Very good welcome by people who love their dogs. These last ones are well maintained and are docile. Before leaving we could caress them. I recommend this service!
Anne-Sophie Thank you for this wonderful day of dog sledding! A very nice surprise for my nieces who were delighted and the older ones too! Very nice welcome, with a lot of information about the dogs and this activity! It shows that you are passionate! We also loved being able to cuddle all these dogs who are big teddy bears! Guaranteed sensations in the sled! Thank you again for these beautiful memories.
Benjamin Thank you again for this walk. My wife will remember her birthday, and my daughter has many dreams in mind. Thank you very much again.
Sandra Thank you for your kindness and for sharing your passion with my children. Your dogs are beautiful and adorable. Thank you for everything.
Laura Great experience! Super nice people, and pleasant. In spite of a deplorable weather, they did everything so that we could make our walk. The dogs are just beautiful! A big thank you for sharing your passion with us, we will certainly come back!
Chantal Thank you for this dog sledding experience. You are super nice, warm welcome, you are passionate, admirable and remarkable dogs, do not change anything. With pleasure to recommend.
Nathanaëlle Great time, passionate and exciting people, a wonderful carriage. I recommend, a real trip with a change of scenery.